a house in the countryside
in ein vered, half an hour from tel aviv, Israel-based on architectural firm alon alexandroni has completed a residential project nicknamed "a house in the countryside". as its name suggests, the barn-like house is placed in the middle of a long piece of land, surrounded by plants and agriculture. spanning an area of ​​211 m², the project takes the form of a rectangular structure, reaching 24 meters in length and nine in width.
on the one hand, the design is informed by local wood and earth, orchards and agriculture, while on the other hand, it is inspired by the period of Israeli concrete brutalism. thus, the final design combines multiple materials and textures into a simple form.all images by alon alexandroni
broken down into two parts: the transparent and the solid
spatially, the house implements a simple layout. alon alexandroni's team (see more here) positioned the entrance in the middle of the structure, dividing the house into two living units. one is designed to accommodate the common areas and the other the sleeping areas. in turn, each unit shares a unique facade that conforms to the services on its part. the rear north facade is more transparent, luminous and light. it is covered with a curtain and overlooks the orchard. in this way, the living space and the kitchen are flooded with daylight, generating a pleasant atmosphere for the family to spend time there.
in contrast, the front façade embraces a more massive character clad in two uneven concrete walls. this unique shape leaves a small strip of glazing uncovered that opens out to the long field while shielding it from the harsh Israeli sun. the different sizes of its two parts break the symmetry and reflect the variety of the interior. on this side of the house, the light comes from the upper parts, casting short shadows in the rooms and long shadows along the hallway. the concrete facade is cast into thin wooden molds diagonally, giving it the warmth of wood and a soft fabric feel.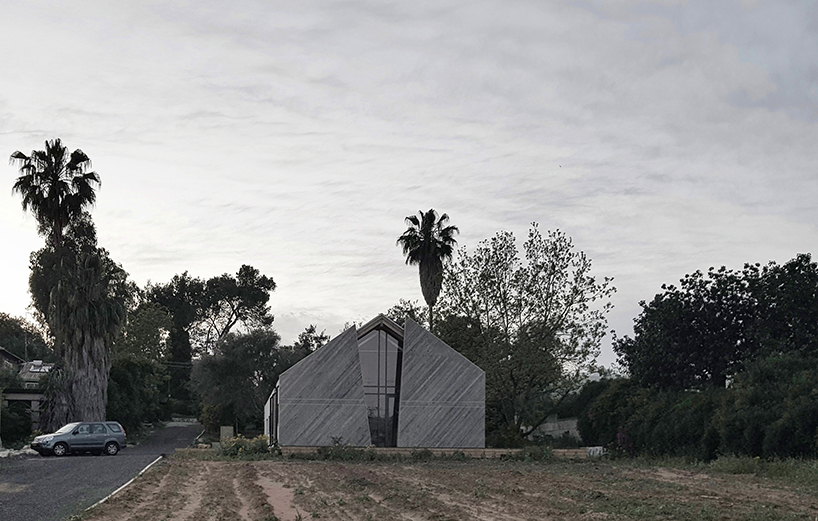 concrete, glass, wood and metal dominate the interior
when it comes to materiality, the design team opted for four main materials: concrete, glass, wood and metal. their interactions are accentuated by the contrast with a background of gypsum or white plaster. moreover, a roof and a wooden gallery are built and revealed, as well as long interior views, which punctuate the space. the double-height living room creates visual communication with a gallery workplace that takes the form of a mezzanine above. the connection between the two levels is taken over by slender metal stairs, while a wooden porch is subtracted from the coherent roof.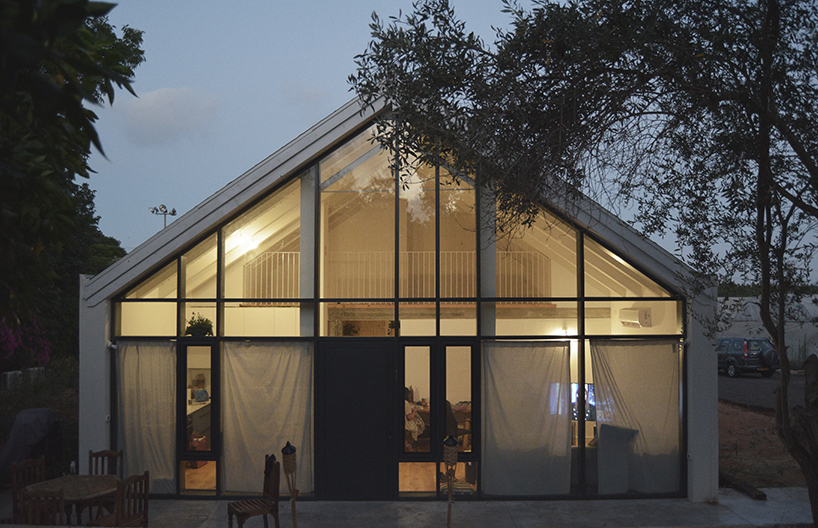 the rear north facade consists entirely of a curtain wall and looks out over the orchard