anonym studio designs a modern house for a young couple
anonym studio has designed a new residence in thailand, complementing the previous one, for the younger generation of the family who are now starting their own home. part of the large garden is transformed into a new house nicknamed "vipha house", which differs from the parents' house because it uses a more modern and open layout. the architects, designed a rectangular arrangement to minimize the disruption the new structure would bring to the family's green space.
Stretching about 50 meters long, with a relatively narrow width, the house is placed in parallel with the existing garden. The 'vipha house' opens in the right places and in the right directions, welcoming the presence of natural light and wind, while the courtyard welcomes tall trees, lush plants and foliage that filters the dazzling sun, offering wonderful nuances and privacy.
front of the house
all images courtesy of the anonymous studio
the court brings together the two families
upon entering the foyer, residents face the living room, while a hallway leads them to the formal hall, pantry, kitchen, and fitness room. an annex is added to the program as a spacious multifunctional pavilion. the bedrooms are located on the top floor, with an elongated glass wall that opens onto the garden. Meanwhile, a series of patterned veneer stone fins and aluminum slats help filter sunlight while maintaining lightness and natural airflow.
the courtyard was the key element in the design, as the architects (see more here) sought to tie the new residence together with the couple's parents' home. serving as a common green space, it invites the family to interact and spend time together. in addition, it keeps the entire living space breathable and ventilated with a beautiful spatial continuity. it also helps to solve the heat problem and provides a greater sense of privacy for the inhabitants. from the outside, the structure reveals a cool, dark shade of gray, while the interiors use patterns to liven up living spaces that look elegant but not overly formal.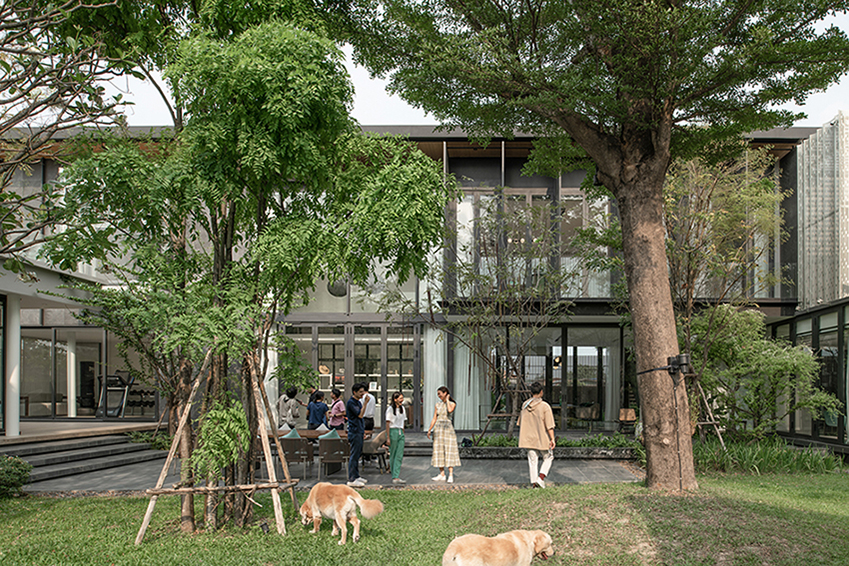 courtyard
embrace the green spirit
the owners' vibrant personalities are expressed through the style of the interior design. The floor is covered in black and white patterned marble, while the gold lines and details add an elegant touch to the overall decor. meanwhile, paintings with a dynamic use of color complement and enliven the design. the clear glass walls embrace natural light, providing a warm and cozy atmosphere. when the front door is open, residents can feel the breeze passing by. overlooking the courtyard and seeing all the greens, the sheer curtains help filter the sun into this soothing light. in addition, the accommodation includes a semi-outdoor bathroom, creating a very spacious, comfortable and refreshing space.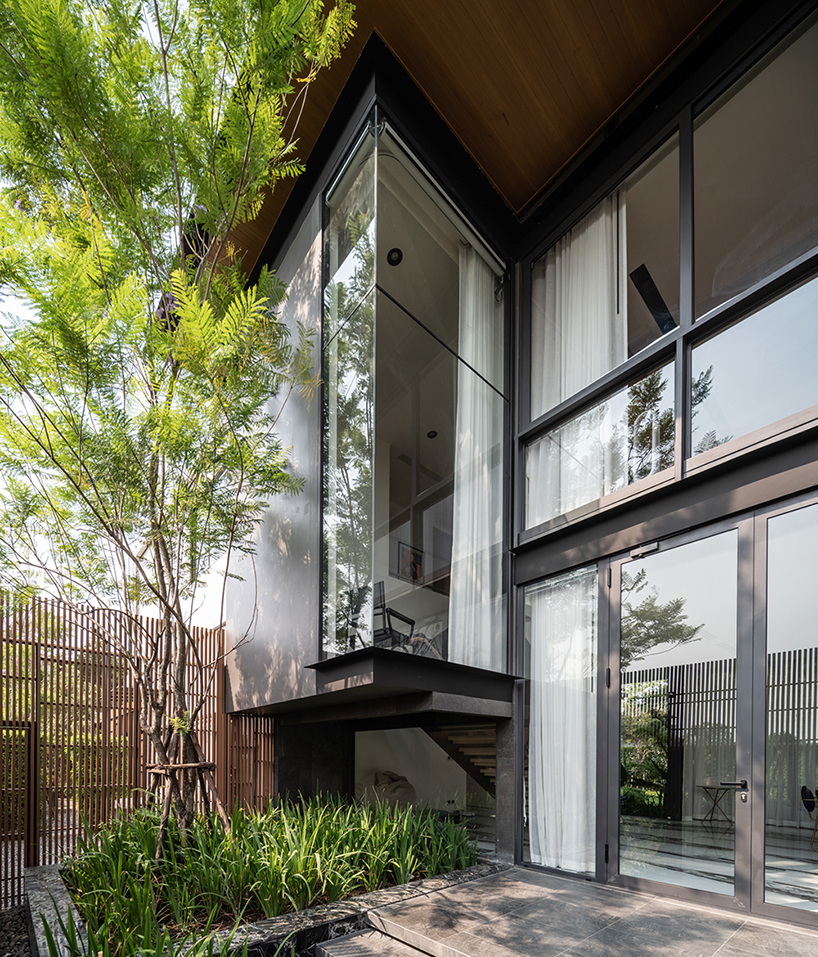 stairs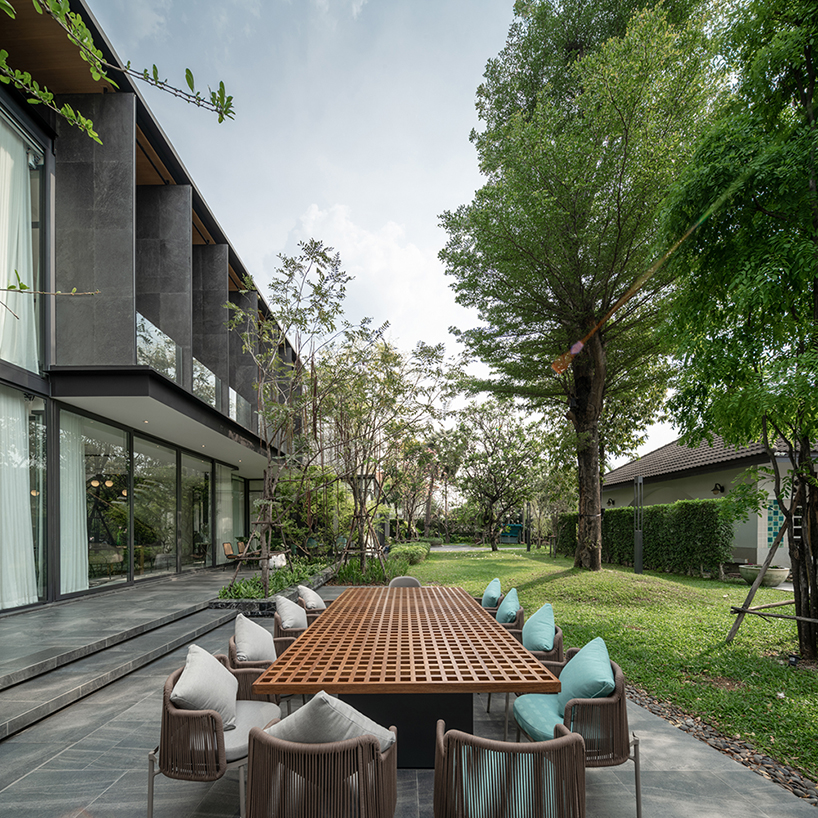 outdoor dining area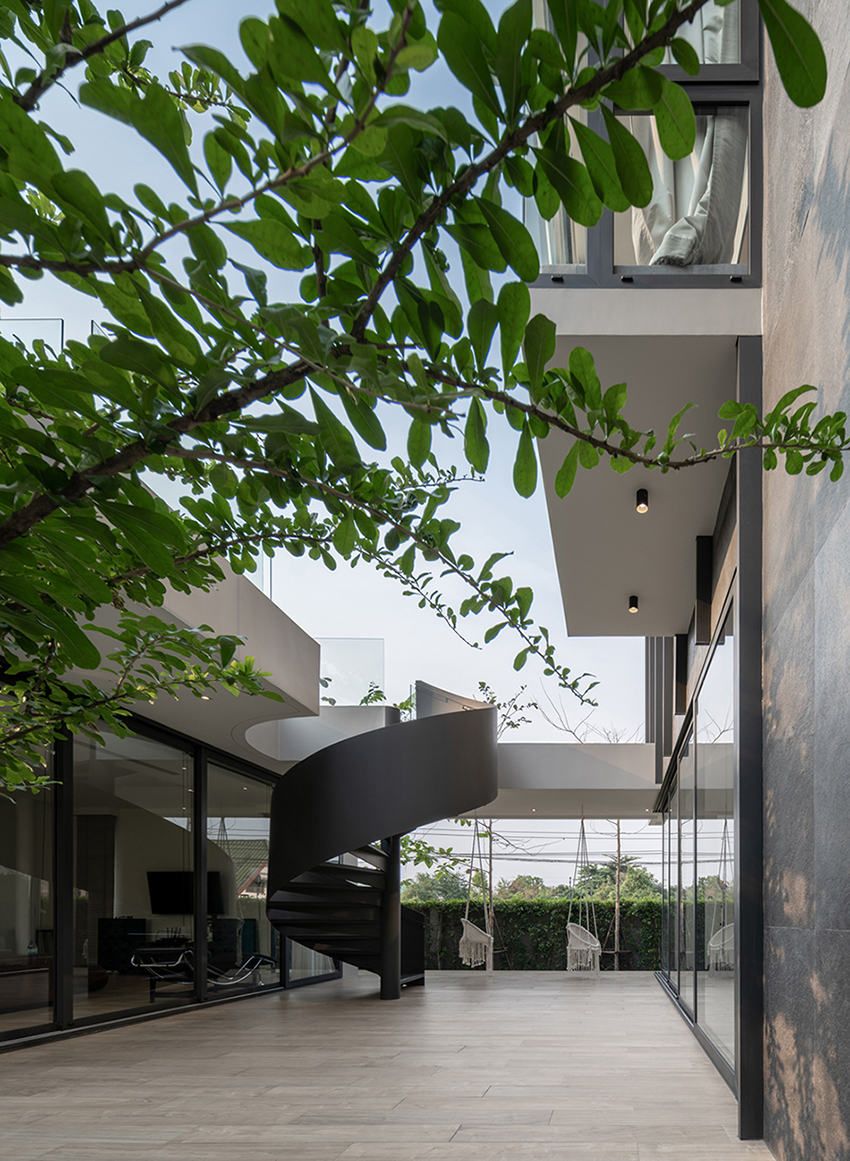 spiral staircase to the second floor