a hybrid structure in japan by KOMPAS
studio KOMPAS presents the "nishiji project", a hybrid structure designed to accommodate a family lodge and one gallery space. the client, an art collector operating a real estate business, requested to position the new structure on his parents' property – close to their existing residence – in the historic part of chiba, Japan. to successfully integrate all the needs of the owners, the final composition takes the form of a series of seven staggered volumes, resting on a mass of washed concrete that resembles the base of a castle. with this layout, the architects sought to make the building stand out, while making the most of natural light and generating a dynamic spatial experience for residents and visitors. all images by vincent hecht (see more works by the photographer here)
forming seven sawtooth roof units
the design team positioned the galleries and offices in a vertical three-story arrangement from the south side towards the urban fabric, shaping the main face of the building. behind this facade, the volume of the building gradually descends towards the north and ends in a central garden. with this organization, the architects moderated the level differences between the two buildings, while forming a visual communication between them. according to the requirements of the client, they aimed to create a public entrance, 'an attraction' as they mentioned, inviting visitors to enter. "we aimed to incorporate publicness and versatility into the new building together with attractive design, like the 'museum with a house' rather than the 'house with galleries'. mentioned the hong kong and tokyo based architectural design studio.
when it came to external materiality, the design team at KOMPAS, most of the sawtooth roof units have been covered with custom-designed traditional kawara tiles. with this gesture, they sought to recall the old warehouse that had existed on the site since the generation of the grandparents. Besides the commemorative significance, these tiles are blackened to resist salt damage and form a solid appearance to protect the lives of residents. additionally, in some cases, the kawara tile turned and the fastener outward to assemble louvered openings. therefore, kawara louvers partially open the solid facade to incorporate filtered daylights and privacy-controlled views from the road. on the other hand, the north-facing sawtooth roofs let in abundant daylight and form a well-lit environment for the art spaces. as perceived, the pitch and height of the sawtooth roofs differ according to internal functions, to incorporate the appropriate daylighting.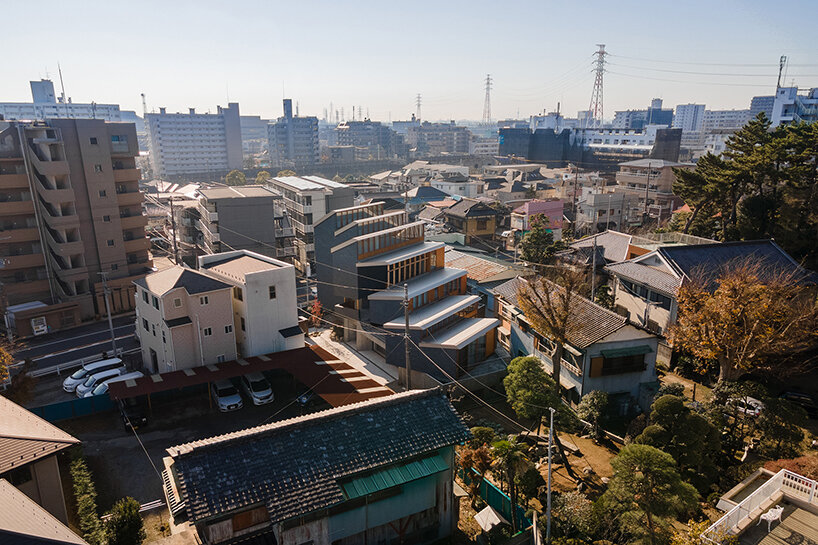 generous interstitial spaces such as awnings and terraces spread throughout the building and provide a unique spatial experience for residents and visitors. the three steep southern roofs function as skylights filling the gallery full of natural light, while the main living space below is penetrated by openings that overlook the garden.
given the owner's growing collection, various interstitial spaces are designed for flexible uses and potential exhibition spaces to accompany the main galleries. in addition, the spacious outdoor terraces and the outdoor landscape invite young and old to walk around and discover dynamic spatial sequences with various materialities and daylights.
the gallery named 'kanda & oliveira' is now open to the public (see more here).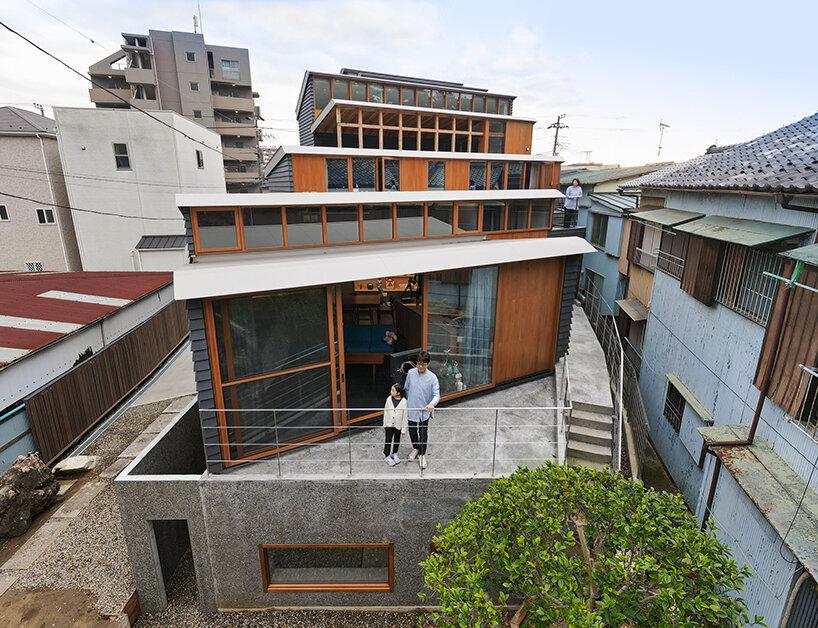 the three steep southern roofs function as skylights filling daylight into the gallery